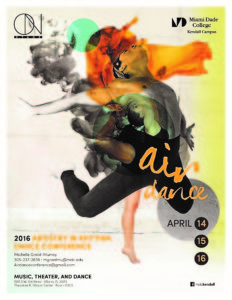 Miami, April 1, 2016- Miami Dade College (MDC) will present its fifth annual Artistry in Rhythm: Engaging the Community (AIR Dance Conference) on April 14-16 at the Kendall Campus  in an effort to create an innovative training program for dance artists and a laboratory for choreographers.
The theme of this year's conference, Living Tradition: Antiquity and Beyond, will explore traditional cultural dance in the synchronicity with modernity.  It is a scholarly dance conference which seeks to explore the significance of community engagement through the vernacular of dance, encourage community growth and development, and enhance the academic environment.  This conference will include a host of master dance classes, lectures, demonstrations, and performances.
Guest artists include Joan Burroughs, anthropologist of dance; Karell Williams, Julliard graduate, actor and dancer on the television series Flesh and Bone, and soloist with Les Grande Ballets Canadiens De Montreal; Michelle Gibson from the American Dance Festival; Christal Brown, Founder of INSPIRIT and Chair of Dance at Middlebury College; and Brandon Bryant, who has worked with So You Think You Can Dance, Glee, and Britney Spears.
This year's conference will include Contemporary Ballet and Modern Dance, Afro-Haitian, Samba, New Orleans 2nd Line, Cuban Salsa, Afro-Cuban, Jazz, Hip-hop, Swing, Acting/Music for Dancers, Improvisation, and Workshops in audition skills and the somatic work.
The opening gala concert will honor Burroughs on Thursday, April 14 at 11:30 a.m., in room 6120 of McCarthy Hall.  The Friday matinee at 11 a.m. is an adjudicating concert with "brown bag feedback."  At 7:30 p.m. Friday, the conference will feature the works of the MDC Jubilation Dance Ensemble and select Miami-Dade County Public School dance programs.  The closing concert will include the choreographic works of Michelle Gibson, Christal Brown, Viva Brazil, Jubilation Dance Theatre and Jubilation Dance Ensemble.
The conference is open to middle schools, high schools, colleges and the community at large and serves as a wonderful opportunity for networking and talent development.
The cost of the conference is $25 for MDC students with an active ID and Miami-Dade County Public School students.  It is $50 for all other guests.  The registration fee includes three days of dance and one ticket to each A.I.R. Dance Concert.  Classes will take place on April 14-16 from 9 a.m. – 4:15 p.m. Nightly performances begin at 7:30 p.m.
For more information, please call 305-237-2638 or e-mail airdanceconference@gmail.com.
On-line registration for the A.I.R. Dance Conference is available at:
https://tickets.completeticketsolutions.com/MDC/Online/default.asp