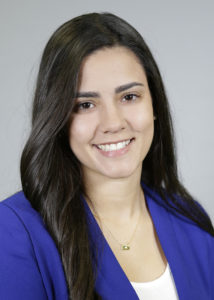 Miami, April 13, 2016 – Miami Dade College (MDC) InterAmerican Campus student Maria Ortiz was recently inducted as a member of the 2016 All-USA Community College Academic Team during the President's Breakfast at the American Association of Community Colleges (AACC) Convention in Chicago.
"Maria Ortiz is an exceptionally talented young woman who is sure to accomplish great things in her life," said Dr. Joanne Bashford, InterAmerican Campus' president. "I am so proud of her for being named to the All-USA Academic Team and for everything she has done to earn  this distinction."
Ortiz is one of only 20 students selected for the prestigious honor from more than 1,900 nominees.  Born in Colombia, Ortiz immigrated to Miami when she was seven years old.  She is an Honors College student with a major in biology.  She plans to attend medical school and specialize in neonatal perinatal medicine so she can help newborns in need across the world.
Ortiz also helps those in need in her community.  This semester, she founded the Helping Hands club at MDC.  The organization collects essential items to distribute to homeless shelters and orphanages. She is also the Vice President of the Pencils of Promise club as well as a member of the Phi Theta Kappa Honors Society, the Mathematics club, and the Chemistry Club. Ortiz is a volunteer with the Holtz Children's Hospital baby hugger program, a hands-on experience where she learns to care for critical newborns through feedings and interacting with nurses.
As an All-USA Community College Academic Team member, Ortiz will receive a $5,000 scholarship and special medallion from the Phi Theta Kappa Honor Society (PTK).
The All-USA Community College Academic Team is sponsored by Follett Higher Education Group and presented by USA TODAY with additional support provided by the American Association of Community Colleges and Phi Theta Kappa.  The ALL-USA Community College Academic Team members were also featured in the USA TODAY newspaper.
For more information, please contact Magda Castineyra, Director Honors College Dual Language Program at (305) 237-6910.