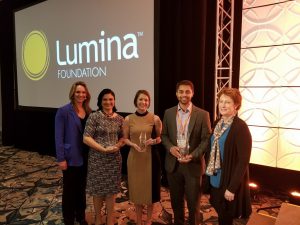 Recognition comes two weeks after MDC received the Aspen Prize, the nation's signature distinction for colleges
Miami, April 16, 2019 – Exactly two weeks after receiving the nation's top recognition for colleges, the Aspen Prize, Miami Dade College has been awarded the prestigious 2019 Lumina Foundation Education Innovation Judges Choice Prize, a top national distinction for the college's efforts to help adult learners earn credentials that lead to further education and employment in a rapidly changing economy. The prize was announced earlier today in San Francisco.
"For some, the decision about whether to stay in school can come down to a choice between putting food on the table or going to class. We hope that with our earn-and-learn model, fewer people will to have to make that choice," said Dr. Lenore Rodicio, Executive Vice President and Provost at MDC who was on hand to receive the Lumina Prize.
Lumina's goal is to increase the proportion of working-age Americans with high quality degrees, certificates, and other credentials to 60 percent by year 2025. Now in its fourth year, the foundation's Education Innovation Prize was awarded today to the MDC ACTS (Accelerated Credentials Training and Skills) initiative for meeting this year's innovation challenge focused on identifying, developing and accelerating solutions that help adults in the U.S. develop the skills and obtain credentials that have value in today's economy. MDC was specifically recognized for its "earn and learn" program model between the college and Tesla Corp. and the upcoming launch of the Tesla START program this coming Fall. Students can earn an hourly wage, experience hands-on learning, and obtain an MDC stackable credential (Career & Technical Certificate) as well as a Tesla certification to become a Tesla Service Technician, all over the course of a 12-week period. With hourly compensation, a mini-internship, a guaranteed job interview and an offer of employment upon completion, MDC ACTS aims to provide job stability and financial security to adult learners as well as a talent pipeline for industry.
"I commend Dr. Rodicio and the MDC team that worked on this proposal for this amazing recognition," added Dr. Eduardo J. Padrón, MDC's President. "At MDC not only do we know that open access and high quality can go hand-in-hand but that being innovative as an institution and offering traditional and short-term programs that provide 21 century skills and create lifelong learners who can adapt to a rapidly changing economy is paramount."