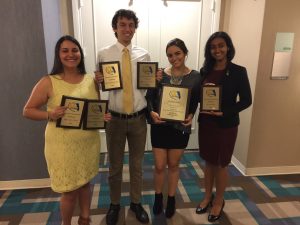 Miami, Oct. 21, 2016 – Miami Dade College's The Reporter has been named the top state college student newspaper in Florida for the sixth straight year.
The Reporter staff placed in 14 of 18 individual categories – including five first-place awards – at the recent Florida College System Publications Association awards banquet in Orlando. The paper has won 88 awards from the FCSPA in the past five years including 52 first-place honors.
In addition to placing first overall in general excellence, the paper won individual first place honors for News Story, Feature Story, General Column, Design, and Advertising Design.
"I feel blessed to represent this organization" said Maria Vizcaino, the Editor-in-Chief of The Reporter this school year. "These awards are proof of our hard work. Now, it's on this year's staff to keep up the high standards of The Reporter."
This year's competition was based on newspapers printed during the 2015-16 school year. The Reporter accumulated 29 overall points.
The Reporter features 16 pages, prints on a biweekly schedule, has a circulation of 10,250 per print cycle, and is supplemented by a website with video and audio content. It is distributed at all eight MDC campuses and has newsrooms at the North, Wolfson and the Kendall campuses.
Follow The Reporter on Twitter at @MDCTheReporter, Facebook at mdc.thereporter, Instagram @mdcthereporter and online at www.mdcthereporter.com
First Place:
Nicolette Perdomo, News Story
Adriana Falero, Feature Story
Cindy Matheus, General Column
Reporter Staff, Design
Gabrielle Rueda, Advertising Design
Second Place:
Daniela Molina, In-Depth Reporting
Peter Carrera, Sports Writing
Eli Abasi, Picture Story
Eli Abasi, Feature Photo
Karla Buergo, Comic Strip
Third Place:
Eli Abasi, News Photo
Hector Gonzalez, Arts Review
Kevin Flores, Illustration
Jonel Juste, Humor Column