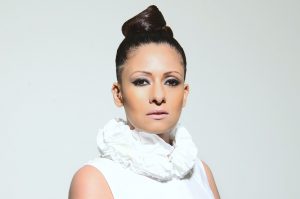 Miami, Sept. 16, 2019 – Miami Dade College's (MDC) acclaimed Miami Fashion Institute (MFI), will host the Innovators in Fashion speaker series with fashion designer Alessandra Gold on Wednesday, Sept. 18, at 12 p.m., at the Wolfson Campus in downtown Miami.
Gold is a Brazilian-born, Miami-based designer who is the worldwide Creative Director for the international sneaker brand KRUZIN.  She is the brand's International Director of Corporate and Business Development initiatives for the US and non-Asian markets. Trained in her art at New York City's Fashion Institute of Technology (and later recognized as an alumna of note), Gold initially created the 'GOKA' brand of high-end, design-driven women's shoes in the early 2000s to fill a need in her retail and styling consultation businesses. The early success and press coverage (Sports Illustrated Swimsuit, Vogue, Glamour) of these designs soon led to shoe companies commissioning Gold to design for them. While creating children's sneaker and boot designs for brands like Osh Kosh, Baby Phat and Stride Rite in 2009, she was approached by KRUZIN to take the creative helm, and since then, has not looked back.
She is the Retail Partner for Millennial Capital Limited, a Dubai-based venture capital firm specializing in growth stage investments across retail and consumer products in the Gulf States. Gold also founded the "GSA House" in 2017, an independent creative agency office in Miami to manage all marketing and international branding business for KRUZIN and other brands.
MFI is an international fashion hub and the only one of its kind at a public higher learning institution in Florida. Housed at MDC Wolfson Campus, MFI offers degrees in Fashion Design and Fashion Merchandising.  MFI works with local and international designers to develop a 21st century skilled workforce that supports industry growth and demand. To learn more, visit www.mdc.edu/fashion or RSVP at fashion@mdc.edu
For more information, please contact Asanyah Davidson, MFI Chairperson, adavidso@mdc.edu