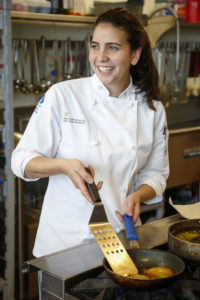 Miami, June 28, 2016- Miami Dade College's (MDC) Miami Culinary Institute (MCI) student Patricia Falcon has earned the opportunity to experience a true life French culinary adventure by being selected to apprentice as the sous chef at Le Calabash 'Petit Conservatoire de la Cuisine' this fall. Le Calabash is located on the Creuse River in the heart of the Indre et Loire region, and is set in a small French hamlet on the edge of the local forest.
Falcon was selected among 15 MCI students who traveled this summer to France and Italy as part of the MDC/MCI culinary study abroad program. Chefs Allison and Sidney Bond, founders of the famed Le Calabash, were so impressed with Falcon that they offered her an all-expense paid internship including travel, lodging, meals, as well as a car to travel to Paris and other areas of France during her time off work.
This is not the first time Falcon has been recognized for her contribution and talent. Falcon is this year's recipient of the Les Dames d'Escoffier (LDE) local legacy award scholarship by the prestigious Les Dames d'Escoffier of Miami, an organization of women leaders in food, wine, hospitality, and farming. Among the other scholarship awards earned by Falcon were the Mirta Penelas, MCI Café, and the Miami Culinary Institute scholarships.
"I would not be in the position I am in today if it had not been for the support of my family and empowerment from my mentors," said Patricia Falcon, whose mother passed away from cancer in 2015.
Falcon is committed to paying it forward through her work as Chef Assistant for the Hospitality Institute's Apprentice Culinary Job Readiness Program; established to connect Miami's inner city residents with job opportunities in the local hospitality and tourism industry through job readiness training.  This year, Falcon received the MDC President's Volunteer Service Award through her efforts of giving back to her community while promoting MCI through its Stagiaire program.
Born in Cuba, raised in the Dominican Republic, and relocating to Miami in 2010, Falcon plans to graduate from MCI in 2017 and pursue a bachelor's degree in Hospitality at Cornell University. Her dream is to one day own her own event planning company, design custom jewelry and inspire future aspiring culinary students to create change by teaching at MCI.