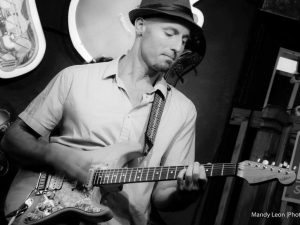 Miami, March 27, 2018 – Miami Dade College's (MDC) Arts and Philosophy Department at the Wolfson Campus continues its successful live jazz series, Jazz at Wolfson Presents, with Aaron Lebos Reality, at noon, Wednesday, April 4. All Jazz at Wolfson Presents concerts are free and open to the public.
Aaron Lebos Reality is a powerful, unique and original music group from Miami whose style encompasses jazz, funk, rock, rhythm and blues, and world music. Since forming in 2012, Aaron Lebos Reality has exploded in South Florida, attracting both high-level musicians and mainstream audiences. With three albums released, the group is currently touring, opening for national acts while maintaining regular shows.
MDC alumnus Aaron Lebos is a well-known, versatile guitarist, born and raised in the South Florida area. He began studying jazz formally at MDC, Wolfson Campus before earning his bachelor's degree from the University of Miami and master's degree from Florida International University, both in jazz performance.
Aaron Lebos Reality is currently made up of bassist Eric England, drummer Rodolfo Zúñiga, keyboardist Pete Wallace and percussionist Brian Potts. The group's sound is contemporary and progressive, yet accessible and ever-developing. Aaron Lebos Reality performances are high-energy bolts of music with sounds that go straight to the soul of the listener.
For a complete list of Jazz at Wolfson Presents concerts, please visit http://www.mdc.edu/main/jazzatwolfsonpresents.
For more information, please contact Dr. Michael Di Liddo at 305-237-3930.