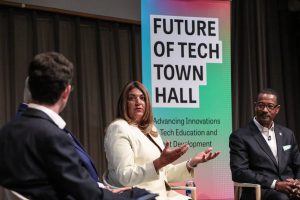 Miami, July 8, 2021 – Miami Dade College (MDC) President Madeline Pumariega joined education and thought leaders to discuss new pathways to grow the nation's tech talent pipeline yesterday during the Future of Tech Commission Town Hall: Advancing Innovations in Education and Tech Talent Development at Pérez Art Museum Miami.
Hosted by the Knight Foundation, in partnership with ExcelinEd and the Florida Chamber of Commerce, the town hall featured a panel discussion with President Pumariega; Mark Rosenberg, Florida International University President; and Jaffus Hardrick, Florida Memorial University President. They shared their insights and experiences creating new models for growing the country's tech talent pipeline. Focusing on the levers available to the federal government and states to support transformative innovation across tech education and talent development.
Breaking through barriers and making history, President Pumariega is the first female president to lead MDC. Her passion for innovation in higher education was born out of her own experiences, first as a student athlete and later as a longtime administrator at MDC.
President Pumariega prioritizes working with business partners to identify the skills needed in key industries and tailoring higher education programs to match those needs. Her transformative approach accelerates the ability of graduates to enter the workforce immediately upon the completion of their coursework.
The Future of Tech Commission is an independent and bipartisan working group of civic leaders developing a comprehensive, inclusive tech policy agenda for the nation.  In response to discussions with the White House and Federal Communications Commission, the Future of Tech Commission is convening the American public, leaders, and experts from across sectors to inform an inclusive tech policy agenda for the nation and a blueprint of public-private solutions for action at the local, state, and federal levels.
The Commission aims to generate input on the most urgent tech policy challenges and opportunities facing America's economy and democracy.  The Commission expects to release a comprehensive blueprint and clear call to action to the public and for the nation. For more information about the Future of Tech Commission, click here.