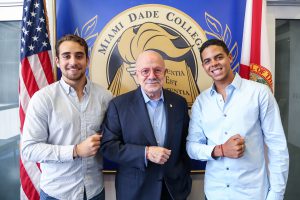 Miami, Oct. 18, 2018- Miami Dade College (MDC) Honors College students, Bryan Montes and Shawn Torres, are the recipients of the 2018 Florida Campus Compact Social Entrepreneurship Award for creating Bracelets for Commitment (B4C).
B4C is a social venture that that provides people with a simple first step to make a difference, quantify their impact, and hold themselves accountable using the B4C platform and fully-sustainable bracelets – handcrafted by female Colombian artisans living in impoverished, at-risk communities.
The Student Social Entrepreneurship Award recognizes and honors at least one student for outstanding service to Florida's communities through the successful creation and implementation of a social enterprise that addresses a community concern.
B4C was created in 2018, after Montes and Torres attended the Global Citizenship Alliance Seminar in Salzburg, Austria. While there, they realized that different approaches to the same problems could bring innovative and functional solutions. They also realized that breaking down complex issues into four general categories of action – economic, social, political, and environmental – can make commitments more manageable. These two insights led to their social venture, B4C.
Their social venture educates, connects, and mobilizes individuals to make commitments toward a chosen issue that directly links to the United Nations Sustainable Development Goals (UNSDG), which express fundamental human rights and environment goals that are currently not being met worldwide.  Through education, connection and mobilization, B4C would like to see these goals met before the United Nation's target of 2030.
B4C educates by informing participants of global political, social, environmental, and economic problems. The organization uses the UNSDG as a framework to help students understand the global context and importance of their service project.
With the proceeds of their business, Montes and Torres plan to help establish a competition to provide seed funding to help social entrepreneurs startup their own commitments.
For more information about B4C, visit https://www.braceletsforcommitment.org/
Florida Campus Compact (FL|CC) is comprised of more than 50 college and university presidents who are committed to helping students become career ready, civic minded graduates who have developed the values and skills of active citizenship through experiential learning. For more information about FL|CC visit www.floridacompact.org