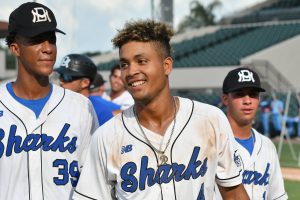 Miami, July 2, 2019- Miami Dade College (MDC) Sharks baseball player Raphy Almanzar has been named 2019 Spalding NJCAA DI Baseball Defensive Player of the Year.
The Sharks' primary shortstop turned 20 double plays while having a .965 fielding percentage. Almanzar's efforts in the field helped guide MDC to the FCSAA Southern Conference title and a berth in the FCSAA State Tournament. The Sharks concluded the season with a 31-20 record.
Almanzar, a sophomore at MDC, played all 51 games of the season, and was at the plate 176 times to bat. He completed 31 runs, 47 hits, including three home runs. He had 109 putouts, 83 assists and 20 double plays this season.
The defensive award has been presented since 1992. MDC Sharks baseball player Carlos Ramos won the award in 2004.
The NJCAA has played a vital role in collegiate athletics for the past eight decades and continues to be the leader in championing academic and athletic opportunities for student-athletes. It is the mission of the NJCAA to foster a national program of athletic participation in an environment that supports equitable opportunities consistent with the educational objectives of member colleges.
For more information, please contact Giovanni Montenegro, gmonten1@mdc.edu