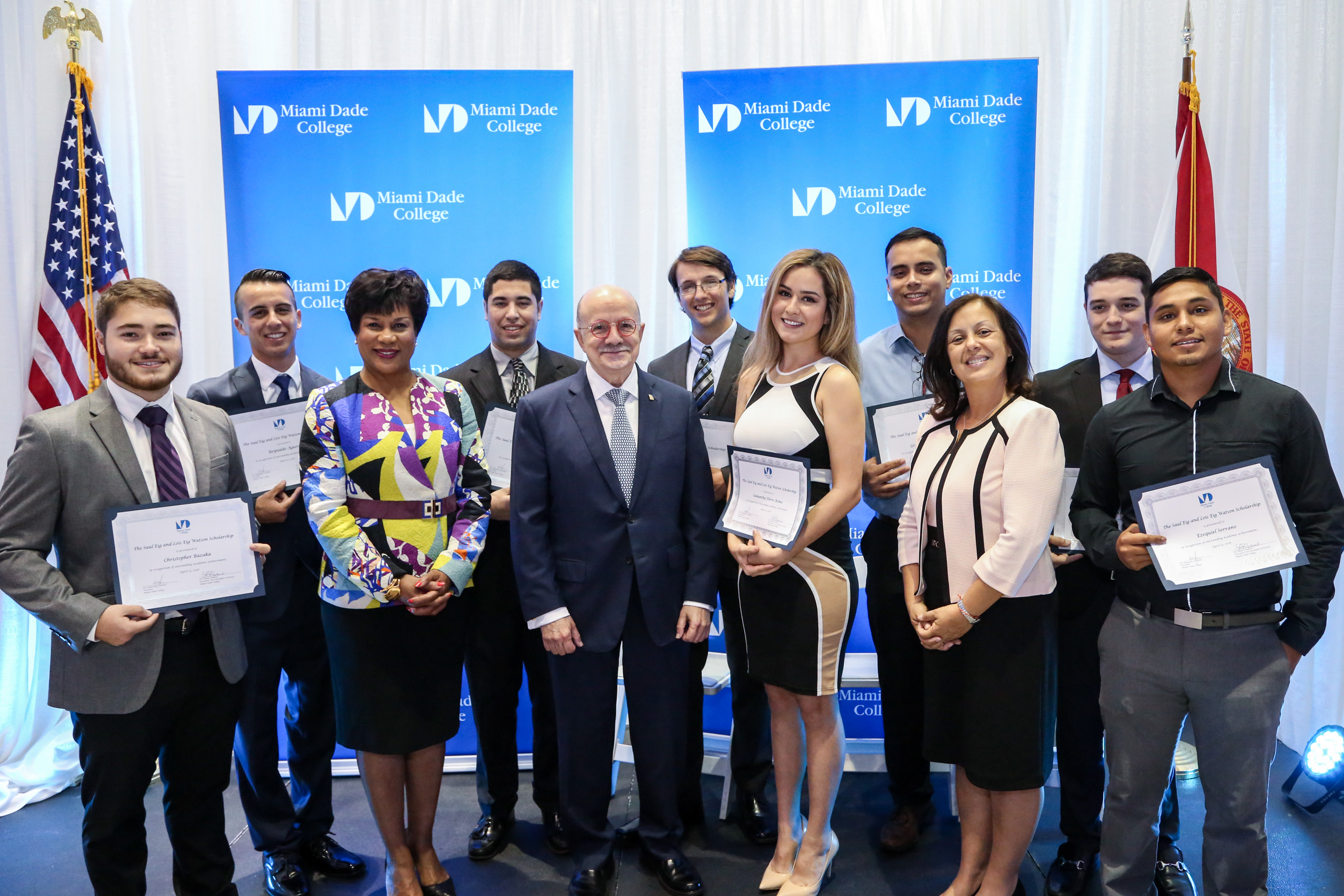 Miami, April 13, 2018 – Miami Dade College (MDC) Foundation and MDC's Eig-Watson School of Aviation awarded eight students with the esteemed Saul Eig and Lois Eig Watson Scholarship during a recent awards luncheon at the MDC Wolfson Campus in downtown Miami.
This scholarship is awarded annually to outstanding students seeking a career in commercial aviation and to support the cost of flight training. This year's recipients are Reynaldo Aguero (Doral), Christopher Bazaka (Kendall), Samantha Flores Romo (Kendall), Edward C. Hoyos (Kendall), Matthew Lewis (Pinecrest), German Andres Melo (Hollywood), Ezequiel Serrano (Homestead), and David F. Zambrano (Kendall).
The Saul and Lois Eig Watson Scholarship Endowment was established in 1988 through the generosity of Lois Eig Watson in memory of her husband, Saul Eig.  Today, it is one of the largest aviation scholarships in the country, supporting the dreams of more than 200 students pursuing a career in commercial aviation.
"It's amazing to see the enthusiasm these young people have for flying, MDC, and Miami," said Lois Eig Watson. "These students have such amazing potential and it's our pleasure to help turn their potential into reality through our scholarship. We want to also encourage scholarship students to do the same for others one day in the future."
The prestigious Eig-Watson School of Aviation at Miami Dade College has provided high-quality aviation training for more than 50 years, with associate degrees and certificate programs designed to provide students with the theoretical knowledge and real-world skills needed to succeed in today's aviation industry. The Eig-Watson School of Aviation is located at MDC's Homestead Campus with additional locations at the Miami International Airport and Miami Executive Airport (TMB).
For more information, visit www.mdc.edu/aviation.
About Miami Dade College Foundation
Founded in 1965, the Miami Dade College Foundation raises essential private funds for Miami Dade College to pay for student scholarships, STEM education, arts and culture, entrepreneurship, work force training, and other programs that elevate our community and nation. In 2016-2017, the MDC Foundation distributed more than $10.3 million to benefit the students, programs and operations of MDC. The College has a long history of responding to the needs of the community with degree programs and special events, both preparing the work force required by local businesses and offering the broader community access to world-class cultural and educational programming. Visit MDCFoundation.com.
MDC Foundation contact: Alyssa Zamora, director of communications and digital engagement, 305-237-3331, azamora@mdc.edu.