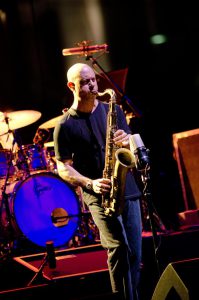 Miami, Nov. 27, 2018 – Miami Dade College's (MDC) Arts and Philosophy Department continues its successful jazz series, Jazz at Wolfson Presents, with Saxophonist Walt Weiskopf, at noon, Wednesday, Dec. 5, at MDC's Wolfson Campus. All Jazz at Wolfson Presents concerts are free and open to the public.
Weiskopf began his New York career performing with the Buddy Rich Big Band in 1981 at the age of 21. Since then, he has made an impressive mark as both a leader with 19 critically acclaimed CDs and countless sideman credits. Walt has been a member of the Steely Dan band since 2003.
A dynamic player with enormous technical prowess, Weiskopf is equally well regarded as a composer. His recordings as leader contain predominantly original work with unique interpretations of standards always in the mix. His seven books on jazz improvisation are among the most respected in the field.
Weiskopf's Song for My Mother (Criss Cross Jazz-1994) was awarded four stars in Downbeat magazine.  In the September 1997 issue of Jazz Times, Bill Milkowski counted Weiskopf among his "five most underrated players." Blaine Fallis' review of Open Road (Posi-tone 2015) in All About Jazz said, "Weiskopf is freed up to take off on an improvisatory spectacle that paints the story of his great talent." About his most recent offering, a 2017 review in the New York City Jazz Record stated, "Fountain of Youth (Posi-tone 2017) could only have come from someone with broad experience in music and life…Weiskopf understands it all."
For a complete list of Jazz at Wolfson Presents concerts, please visit http://www.mdc.edu/main/jazzatwolfsonpresents.
For more information, please contact Dr. Michael Di Liddo at 305-237-3930.