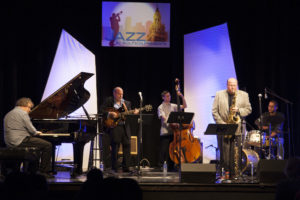 Miami, Sept. 7, 2016 – The Arts and Philosophy Department at Miami Dade College (MDC) begins its 19th season of its successful jazz series, Jazz at Wolfson Presents, at noon on Sept. 21, with MDC's own Jazz Faculty Quintet.  The monthly concerts will run Sept. through April. The events are free and open to the public.
"It is hard for me to believe that we are now beginning our 19th season of free, open to the public jazz concerts here at the Wolfson campus, "said Dr. Di Liddo, series founder and program director. "The concerts we have planned for this year make up some of the brightest new talents as well as some artists with extended resumes. I encourage everyone to take advantage of this season's events, beginning with our own MDC Jazz Faculty Quintet."
The MDC Jazz Faculty Quintet is comprised of some of South Florida's finest musicians: 2016 Latin Grammy Award winning saxophonist Ed Calle, guitarist Mike Di Liddo, pianist Jim Gasior, bassist Gary Thomas, and drummer Rodolfo Zuniga. Since its inception in 2003, the group has performed during many seasons of Jazz at Wolfson Presents. The Faculty Quintet presents original and select compositions from jazz repertoire including modern, hard bop, modal and Latin jazz styles.
"My colleagues that make up this ensemble are truly exceptional musicians," Di Liddo added.  "Individually, they are sought after musicians and maintain a busy performance calendar. Their performance careers have joined them with some of jazz's most celebrated names. It is a pleasure for me to be joined on stage with them for this concert."
In addition to teaching at MDC, these musicians are active in the jazz community, performing at various venues on a variety of stages throughout South Florida, the United States and the world.
For more information, please contact Dr. Michael Di Liddo at 305-237-3930.