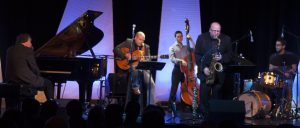 Miami, Sept. 19, 2017 – Miami Dade College's (MDC) Arts and Philosophy Department kicks off the 20th season of its successful series, Jazz at Wolfson Presents, with the MDC Jazz Faculty Quintet at noon, Wednesday, Sept. 27 at MDC's Wolfson Campus in downtown Miami.  The monthly Jazz at Wolfson Presents concerts continue through April and are free and open to the public.
"It's hard to believe it has been twenty years," said Jazz at Wolfson Presents series director and guitarist Dr. Michael Di Liddo. "To have this art form presented on our campus by such a large variety of outstanding jazz artists has been a significant contribution to the cultural offerings for MDC and the downtown community. I am continuously amazed at what is presented by these players."
September's kick-off concert features the college's own MDC Jazz Faculty Quintet. A hallmark of Jazz at Wolfson Presents, the group features some of South Florida's premier musicians including Latin Grammy Award winner saxophonist Ed Calle, guitarist Mike Di Liddo, pianist Jim Gasior, bassist Gary Thomas and drummer Rodolfo Zúñiga.
The artists' diverse musical backgrounds infuse their performances with a harmonic blending of styles which can only arise through jazz music. The quintet performs both original works and select compositions from the jazz repertoire.
These musicians are passionate about teaching at MDC and are also active members of the jazz community, performing at various venues on a variety of stages throughout South Florida, the United States and internationally.
For more information, please contact Dr. Michael Di Liddo at 305-237-3930.