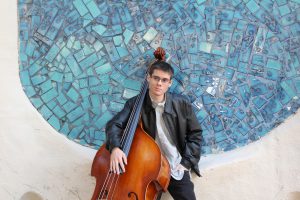 Miami, Nov. 20, 2017 – Miami Dade College's (MDC) Arts and Philosophy Department continues its successful jazz series, Jazz at Wolfson Presents, with bassist Gary Thomas, at noon, Wednesday, Dec. 6, at MDC's Wolfson Campus. All Jazz at Wolfson Presents concerts are free and open to the public.
Gary Thomas has been performing and recording professionally as a bassist for more than a decade. After spending his early years as a musician in northern Florida, Thomas moved to Miami in 2007 to study music at the University of Miami, where he studied under the direction of Chuck Bergeron, Gary Lindsay, Terence Blanchard, Dave Holland and others, ultimately completing both a bachelor's and a master's degree. It was also in Miami that Thomas first began composing, performing and recording original music. Since the start of his career, Thomas has been recognized as a composer in DownBeat magazine and has participated in Betty Carter's Jazz Ahead, the famed international jazz residency program at Washington, D.C.'s Kennedy Center.
Thomas has performed alongside artists such as Shelly Berg, Kevin Mahogany, Ira Sullivan, John Fedchock, Mary Wilson, Richie Cole and the Woody Herman Orchestra. He also continues to work extensively as both a group leader and freelance artist in South Florida. Thomas is currently on the faculty at MDC as a jazz bass instructor.
For a complete list of concerts, please visit http://www.mdc.edu/main/jazzatwolfsonpresents.
For more information, please contact Dr. Michael Di Liddo at 305-237-3930.