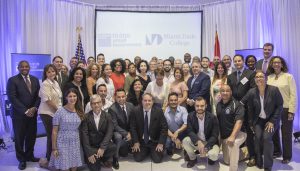 Miami, Aug. 30, 2017 – Miami Dade College (MDC) recently celebrated the graduation of Cohort 11 of the acclaimed Goldman Sachs 10,000 Small Businesses (10KSB) program.  More than 300 business owners have now graduated since its inception in 2013.
MDC's Chief Innovation Officer, Damian Thorman, was the keynote speaker at the graduation.  He is spearheading the evolution of MDC's entrepreneurial hub, the Idea Center.
The curriculum includes one-on-one advice, clinics, and workshops administered by subject matter experts. Goldman Sachs professionals also serve as panelists and judges for "Rocket Pitches", which allow business owners to practice their business pitch to a potential lender or investor. Participants will also learn to identify and evaluate opportunities, understand financial statements, hire, retain and lead employees, negotiate successfully and create a comprehensive growth plan, among other lessons. Applicants should meet the following criteria:
Owner or co-owner of a business
Business in operation for at least two years
Business revenues of at least $150,000 in the most recent fiscal year
Minimum of four employees, including the owner
The 10KSB program was launched at MDC's Freedom Tower on Oct. 1, 2013, when the Goldman Sachs Foundation and MDC entered a five-year, $5 million partnership in Miami.
To learn more and RSVP for an upcoming Webinar: please visit https://attendee.gotowebinar.com/rt/5957251140613762307
Webinars are occurring several times through Oct. 4. Please register for the date and time that works best for you.
To participate in Cohort 13 of MDC's 10KSB program, visit http://www.10KSBapply.com  to apply or call 305-237-7824. The deadline to apply for Cohort 13 is Oct. 10.