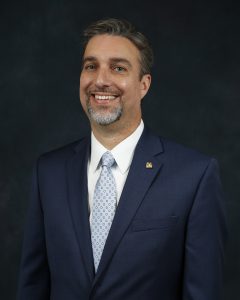 Miami, March 21, 2022 – Miami Dade College (MDC) Hialeah and Kendall Campuses President Dr. Anthony Cruz has been selected to receive a national Phi Theta Kappa (PTK) Paragon President Award, which recognizes new college presidents for their outstanding support of student success. Dr. Cruz will be honored during the organization's annual convention on Friday, April 8, in Denver, Colorado.
The Paragon President Award recognizes college presidents who have shown support of student success initiatives leading to stronger pathways to completion, transfer, and employment. They have taken an active interest in supporting high-achieving students and developing student leaders on campus.
Prior to MDC, Dr. Cruz served as vice chancellor of student affairs at St. Louis Community College in St. Louis, Missouri. During his 25 years in higher education, Dr. Cruz has used his expertise to increase educational opportunities, enhance the student experience and bolster student success at several other institutions, including Sinclair Community College, Cincinnati State Technical and Community College, Broward College, Kaplan University, and Florida International University (FIU). Dr. Cruz earned a bachelor's degree in political science and doctorate in higher education from FIU. He holds a master's in public administration from Florida State University.
Dr. Cruz is among only 20 award recipients selected from 426 nominees, including college presidents, chancellors and CEOs.
"These college presidents have students-first leadership styles and have made it a priority to keep students engaged throughout the pandemic," says Phi Theta Kappa President and CEO Dr. Lynn Tincher-Ladner, "Their nomination is evidence of the gratitude their PTK students feel for supporting them and students like them—even during the most difficult times."