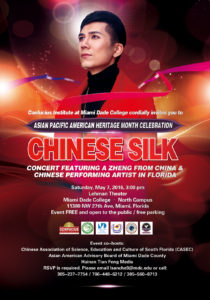 Miami, April 28, 2016 – The Confucius Institute (CI) at Miami Dade College (MDC) will host the concert, Chinese Silk, in celebration of Asian Pacific American Heritage Month at MDC's North Campus on Saturday, May 7, at 3 p.m.  The event is free and open to the public. Since seating is limited, RSVP is required.
This concert will feature A Zheng, a renowned pop singer from Hainan, China as well as more than 70 Chinese performing artists. It is expected to be the largest and the most exciting stage performance celebrating Asian Pacific American Heritage Month in South Florida. Several original songs by A Zheng will be released during the concert, together with Chinese folk dances, Chinese martial arts, Peking opera singing, instrumental music, and other stage performances. This concert will have a variety of acts that will lead participants to the mysterious kingdom of the Orient, which inspires a splendid contemporary Silk Road.
A Zheng began performing at age 15, and published his first album at age 20. His 2007 album, I Am Just 18 Years Old hit top ten in China's national TV network – CCTV "Music Program of the Year". Among his works, If You Are a Drop of Tears in My Eyes won the Championship of China Mobile Network Music Competition. His performance exhibits to the world a new mental and spiritual outlook of the Chinese young people. A Zheng has collaborated with his father Tian Feng, a renowned musician, on more than 100 musical compositions, many of which are popular among Chinese young population. His new album, Chinese Silk, jointly produced by the Confucius Institute at MDC and Tian Feng Media, will be released in May 2016.
The event will be co-hosted by Asian American Advisory Board of Miami-Dade County, Chinese Association of Science, Education and Culture of South Florida (CASEC), and Hainan Tian Feng Media from China.
To register, please visit: https://www.eventbrite.com/e/chinese-silk-concert-featuring-a-zheng-performing-arts-variety-show-tickets-24816006343
Guests must print out the ticket to be presented at the event entrance. 
For more Information, contact Dr. Jim Yu at xyu@mdc.edu