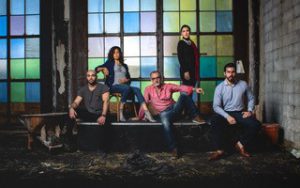 Miami Dade College's Teatro Prometeo Presents "Gentefrikation"
Miami, Dec. 4, 2018 – Miami Dade College (MDC)'s acclaimed Teatro Prometeo, under new artistic direction, presents Gentefrikation, (Hente-Freak-A-Shun) an original play about gentrification and community displacement, Friday, Dec. 14 through Sunday, Dec. 16 at MDC's Koubek Center Theater.    The play is in Spanish and English with supertitles for each language.
A play on words and on Miami's bilingualism, Gentefrikation (Hente-Freak-A-Shun) is a term coined for the recent gentrification phenomenon, specifically when Latinos displace other Latinos from their neighborhoods, causing the "gente" to "freakout." A timely piece, given the current real estate wars happening in Miami.
The story takes place in the Little Havana of today, where gentrification is moving fast and people are wondering what will happen with their lives when they can no longer afford housing.  The characters are a slice of the situation Miami is currently undergoing as the city expands in a fast pace to become the next world megapolis.  Thanks to funding from the John S. and James L. Knight Foundation and the Latinx Theatre Commons, Teatro Prometeo brought up and coming young playwright Emilio Rodriguez to Miami to collaborate with the Prometeo team and develop two concurrent versions of Gentefrikation, a version in English by Emilio Rodriguez and a Spanish version written by Prometeo's new Artistic Director Edgar García. 
The play revolves around five unique voices from Little Havana, an elderly Mexican woman with no family in Miami, an elderly Puerto Rican Hurricane María refugee, a young pregnant Dominican woman, a millennial Cuban-American college graduate without a job, and a very ambitious Cuban exile who buys spaces to re-sell at a higher value.  The four main characters live in an old house in Little Havana and are trying desperately to figure out how to pay the rent increase the landlord has requested in thirty days.  In desperation, then they decide to trick the landlord into coming to the house and confront him face to face about the sudden hike in price.  Events turn violent when the housemates react strongly to the landlord's lack of real options for their future.  As the situation goes sour, from conversation to confrontation, they all discover they have more in common with each other than the differences that brought them together.  In an explosive and unexpected ending, these characters decide that surviving is no easy task when the world around them just moves too fast for anyone's sanity.  The play does not offer a simple solution, but rather, a broader view of multiple perspectives revealing the complexity and interconnectedness of an issue that should concern us all. This presentation is a rare occasion to see characters that are just recently beginning to be portrayed on the American stage.
The one-act play is a world premiere with a stellar cast.  Recently "Ensemble Cast Emmy" nominated Rosalinda Rodriguez (Flor del Barrio); Miami theater, film and television icon Juan David Ferrer; Prometeo alumni Mariel Corona; and two young, gifted actors, Sebastian Vazquez and Gabriel Bonilla; round up this top-notch dream cast.  The play is directed by Edgar García (Casa Ajena).  Set and light Design was created by Nobarte. This production received major support from the The John S. and James L. Knight Foundation and is a part of the Latinx Theatre Commons's (LTC) El Fuego Production Initiative.
In April 2019, Prometeo will present a revival of the renowned Latin American musical, La Verdadera Historia de Pedro Navaja, inspired in the legendary Ruben Blades song and character. Tickets are on sale now and a sold-out run is expected for this musical headlined by Beatriz Valdés, Manolo Ramos and Karen Martello, with musical direction by international musical phenomenon Yusa.
WHAT:             Teatro Prometeo presents Gentefrikation (Hente-Freak-A-Shun). The play is in Spanish and English with supertitles for each language.
WHEN:             Friday, Dec 14 and Saturday, Dec.  15, at 8 p.m.; Sunday, Dec.  16, at 5 p.m.
WHERE:           MDC's Koubek Theater, 2705 SW Third St.
TICKETS:         $30 General/ $20 Seniors & Students/ $10 MDC Students / Valet parking $5
https://www.brownpapertickets.com/event/3576421 or call 800-838-3006
About Teatro Prometeo
MDC's Teatro Prometeo celebrates Hispanic culture through offering high quality Spanish/bilingual theater productions with a social perspective, while supporting new, cutting-edge work. With more than 45 years as a cultural treasure in Miami, Teatro Prometeo enters an exciting new phase with a fresh focus on producing relevant, thought-provoking theater experiences that reflect its dynamic community.
The programs of Teatro Prometeo are made possible with the generous support of: Miami-Dade County Department of Cultural Affairs; the State of Florida, Department of State, Division of Cultural Affairs and the John S. and James L. Knight Foundation.
For more information on Teatro Prometeo, please call 305-237-3262.
Teatro Prometeo Publicity: Annie Gonzalez, Anniegee Marketing & Communications, 305-213-0291, anniegee06@gmail.com ; Alexa Burneikis, 305-237-7733, aburneik@mdc.edu;