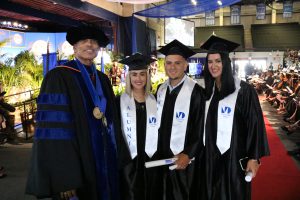 Miami, May 13, 2019 – More than 960 graduates from Miami Dade College's (MDC) Class of 2019 came together to raise a record $19,340 for student scholarships with their contribution to the MDC Class Gift. Graduates showed their commitment to giving back by wearing their alumni stoles at MDC's commencement ceremonies on Saturday, May 4th.
The overwhelming support of this year's Class Gift program surpassed last year's results by more than 35 percent. Beginning in 2017, the Class Gift is a program of the MDC's Office of Alumni Relations.
"A strong culture of giving among students and alumni is crucial for MDC's future, and the tremendous generosity of our 2019 graduates will make a big difference for future students who need the support," said Adlar Garcia, director of alumni relations at MDC. "Our graduates are sending the message that it's never too early to start giving back to your alma mater!"
With 65 percent of MDC students from low-income households and 43 percent living below the federal poverty line, scholarship support at MDC is vital. Students like Jasmine Floyd-Webster and Yassel (Jay) Orriols know firsthand the positive impact of a scholarship on a student's life and that's why they support it.
"MDC has done a lot for me. My scholarships pushed me throughout my time at MDC," said Orriols. "There's nothing better than to pay it forward."
"I've always been big on giving back and supporting those who have invested in me," added Floyd-Webster. "Thank you, MDC!"
Learn more about the MDC Class Gift and Office of Alumni Relations at www.mdc.edu/alumni.
MDC Foundation contact: Alyssa Zamora, director of communications and digital engagement, 305-237-3331, azamora@mdc.edu