MDC officially welcomed the inaugural class of its Rising Black Scholars Program in a ceremony on June 15, at the North Campus Conference Center. MDC's groundbreaking Rising Black Scholars Program promotes academic excellence and equity, providing financial assistance, support services and resources to Black students to ensure their academic success and to foster a sense of belonging and preparedness for continued education or entry into the workforce.
While the nation evaluates equity and social justice in the Black community, MDC understands its responsibility to eliminate internal student success gaps and achieve equitable outcomes.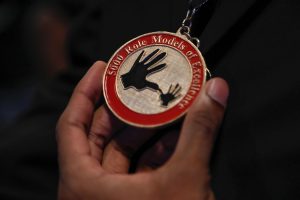 A College study revealed an opportunity to increase student enrollment, retention, and completion in the Black community. While Black students at MDC graduate at higher rates than students at the national level, there is a 5 percent gap between their graduation rate and other students at the College. MDC is leveraging its community networks, student support services, and esteemed faculty to close the gap.
The Rising Black Scholars program's structured experiences inside and outside the classroom will equip students with the skills, resources and support services to achieve their academic and professional goals. Participants will have their tuition and fees covered as well as receiving a book stipend, a laptop computer, and scholarship opportunities. They will also have access to degree options, internships, academic advisement, resume assistance, and short-term, career-focused credentials that increase earning potential.
Several elected officials and community leaders spoke at the launch and welcomed the scholars. Read the event program.
A $1 million donation from the MDC Foundation and the Mitchell Wolfson Sr. Foundation funds the Rising Black Scholars Program.
Watch the recorded ceremony via livestream