New World School of the Arts college theatre alumna Chabely Ponce (NWSA BFA 2023), who recently played "Mimi Marquez" in the award-winning production Rent, under the direction of Andy Señor, Jr. in Colorado, visited her alma mater earlier this month to engage in a Q&A session with the NWSA college musical theatre and acting students.

The dialogue, which centered on the professional etiquette and training she received while studying toward her BFA degree at New World School of the Arts, highlighted the importance of her experience as a student, how it significantly influenced her young acting career, and how she is already finding success in the field she loves. The training she received, noted Chabely, "helped me immensely during my audition in Rent by allowing me to be confident during the process in a room filled with professional actors and performers who were experienced on Broadway and National Tours."

While working in her new role, Chabely not only excelled in the production as an actor but also became a source of inspiration for many of the seasoned musical theatre talent with whom she was working. They saw her as "a performer that gave 100% in days where there were two shows," she explained. There was an endurance and authenticity to her work in every show, which led the cast members to ask about her training and if she would share some of the skills she acquired as a New World School of the Arts student.

"It was an enlightening lecture, and the students were so inspired. Talking first-hand about her experience at NWSA helped the students strengthen their confidence level while realizing that the training they are receiving at New World School of the Arts, theater division, can really help them launch their careers and find success in the performing arts."

Jennifer Rodriguez de Castroverde,
NWSA Assistant Professor, Acting

Chabely's teacher and acting director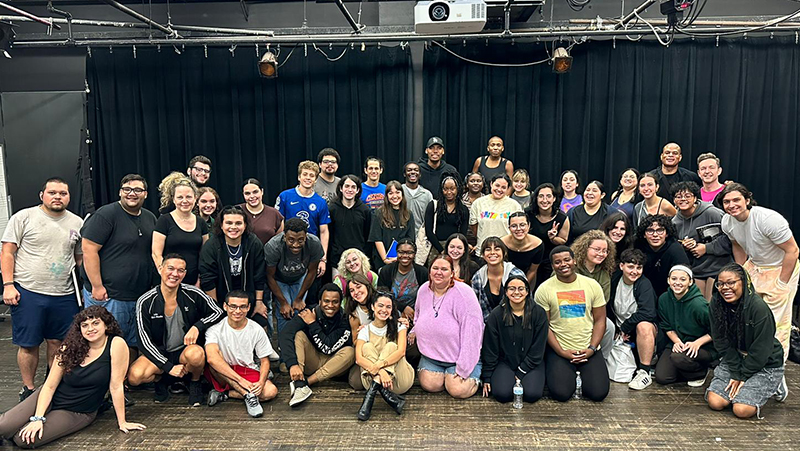 How Chabely Ponce came into the role of "Mimi Marquez" might be considered a fateful turn of events when her professor and acting director at NWSA, Jennifer de Castroverde, offered her long-time friend and colleague, Andy Señor, Jr., the opportunity to present a master class to the New World School of the Arts college theater students during the Spring of 2022.

At the time, Señor was in the process of recruiting well-trained theater students of diverse backgrounds for the Institute of Barcelona's UK certified 3-year program which offers Undergrad and Grad programs in acting and musical theatre, where he was working. The illustrious actor, performer and master decade-long director of Rent was familiar with New World School of the Arts and became interested in learning more about its students after attending the NWSA Rising Stars Showcase, the school's signature Broadway-style show presented each year in the Spring.

"The workshop was a huge success! Andy brought one of the actors from Revolution Rent (the 2019 HBO documentary about Andy's journey directing a production of Rent in Cuba)," explained de Castroverde with whom Señor coordinated the class. "The workshop delved into his experience living and working in Barcelona. He had just starred in an acclaimed, immersive production of the musical Next to Normal. He also spoke extensively about the Institute, about directing Rent all over the world, and his journey with the legendary Tony award-winning original director of Rent, Michael Grief. Lastly, he spoke about the HBO documentary of the first professional production of a musical in Cuba since the revolution. The Cuban students were so inspired and moved by Andy's experience mounting that production."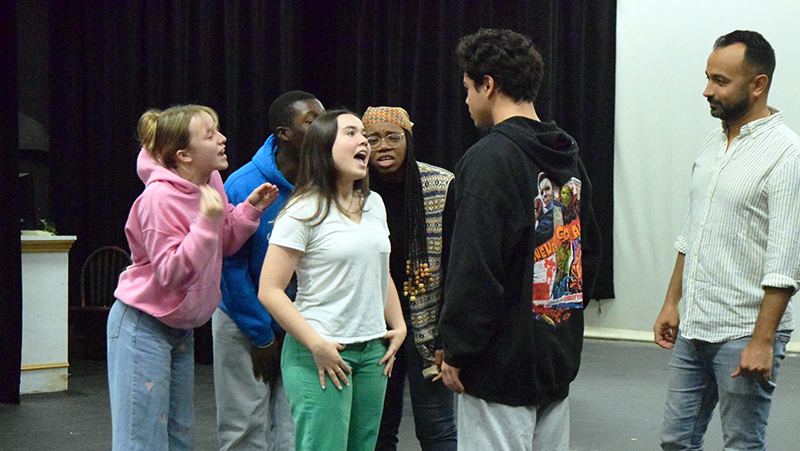 After the workshop, Señor auditioned a number of students for the Institute and two NWSA students were accepted into the Master's program at the Institute for Acting in Spain.

"And something else happened when he auditioned our students," continued de Castroverde, "a surprise casting find in NWSA grad 2023 Chabely Ponce! He was very interested in seeing her for the role of "Mimi" in his upcoming production of Rent that was opening in August 2023, in Aspen, Colorado. He messaged me about her and how he had sent her information to the casting office of Wojcik Casting Team. I coached Chabely for the self-tapes that were sent to the casting director. She received a call for a callback in NYC. She got the role! She rehearsed in NYC for two weeks and performed "Mimi Marquez" in August of this year at Theatre Aspen… and the rest is history in the making."