The Miami-Dade Days Ties and Scarves Competition – a project that has been assigned to New World School of the Arts college graphic design students for the past three and a half decades – once again brought awareness of Miami-Dade County in our state's capital during this year's Legislative Session. "Miami-Dade Days provides us with a great example on the concept of branding. The unique designs of the ties and scarves created by our students serve as a unifying element to promote our county. It's branding at its core," explained NWSA visual arts faculty, Rosario Martínez-Cañas (Graphic Design) and director of the competition. 
  
Once a year, the graphic design students put forth beautiful cutting-edge designs that represent the county and its municipalities, celebrating the diversity and richness of South Florida's impact on the community. The results are limited-edition ties and scarves which over the years have become highly collectible accessories among those attending the annual Spring Legislative Session in Tallahassee. Selected by a jury, the winning designer is publicly recognized in Tallahassee during the two-day session. 
  
This year's winning design was created by Jose Chocce, a young artist working towards a BFA in Graphic Design (Class of 2024). With a vibrant pink background and clean geometric lines, Jose used iconography to relay his interpretation of Miami-Dade County. Emphasizing hyper-local essentials such as the flora, fauna, and lifestyle typical of Miami-Dade County was an important element in Jose's design decision.
The vibrant color used as a background in the tie and scarves was inspired by the recognizable pink in flamingos, in buildings and structures found throughout the city, and in the energy the student finds in its inhabitants. "I believe my design was very different from my colleagues'. The minimal illustrations outlined in fine black lines offered a hint of fun rather than a serious tone," said Chocce.

After learning his design was selected during an unveiling luncheon, Jose had the opportunity to travel to Tallahassee accompanied by his graphic design professor Rosario Martinez-Cañas, Dr. Jeffrey Hodgson, Provost and CEO of NWSA, Mr. Monty Trainer – long-time supporter of New World School of the Arts and sponsor of the Competition, Miami-Dade County Mayor Daniella Levine Cava, Dr. Malou C. Harrison, MDC Executive Vice President and Provost, Dr. Bryan Stewart, MDC Medical Campus President, and other members of the Miami-Dade County Delegation.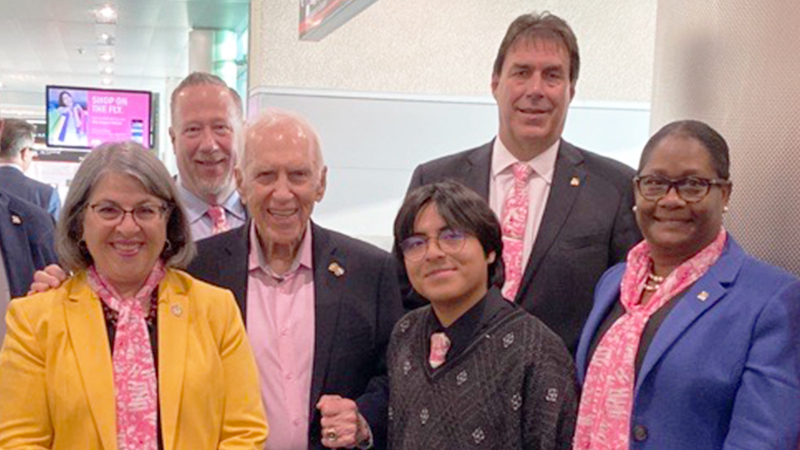 "Observing how each individual person styled the tie or scarf was intriguing for me."

Jose Chocce
"I was impressed by the variety of colors worn by attendees which matched with the vibrant pink and their formal attires. Some worn it as a pocket handkerchief, while others turned the scarf into bow ties! I was fortunate to tour the inside of the state capitol where I had the opportunity to meet some of my district's senators including Senator Bryan Avila and Senator Ana Maria Rodriguez. This gave me a more realistic look into who are the persons representing us. It offered a face to the names I see in the ballots."
A total of seven very different but equally impressive designs were presented this year to the panel of judges comprised of a half dozen members. Inspiration ran the gamut with students focusing on the cultural diversity of our community, the rich flora and fauna unique to our landscape, the bold and vibrant colors offered by nature, and some of the striking 1900s architecture found in select neighborhoods of Miami-Dade County to create their competitive artworks.