This year, the MDC Information Technology Team gave back for the holidays through partnerships with the Miami-Dade Police Department's Annual Christmas Toy Drive, and the Neighbors 4 Neighbors Adopt a Family Program.
Through Neighbors 4 Neighbors, the Information Technology Leadership Team sponsored the Correa family Ivanisha was in an abusive relationship, further complicated by drug abuse while pregnant. Between abuse and addiction, Ivanisha went into early labor and gave birth to a beautiful baby –– Davina. Davina however, spent a month in the NICU fighting for her life, and now at 2 years old, suffers from neurological disorders and developmental delays. Wanting better for her daughter, Ivanisha left her toxic environment, moved in with her mom Odisa, began the difficult work of being a recovering addict and attained a job in the retail space. Odisa also helped get Davina into an agency that provides physical, speech, and behavioral therapy.
Upon inquiry from the IT Leadership Team, the family's caseworker through Neighbors 4 Neighbors, provided a wish list with essential items like diapers, clothing, toys, as well as, supermarket and fuel gift cards.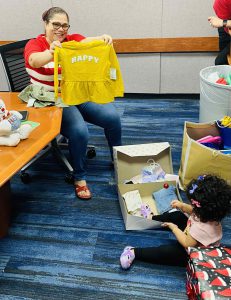 The IT Leadership Team swung into action and provided what the family requested and much more. On Tuesday, December 13th, several members of the IT Team helped turn a conventional conference room into a winter wonderland, with a surprise visit from Santa Claus. The role of Santa on this special day was graciously played by Purchasing Director, Roman Martinez. In true holiday fashion, the Correa Family and her new MDC family broke bread together while Davina had her picture taken with Santa and played with shiny new toys. The generosity of MDC's IT Team, ensured that the Correa Family had the magical Christmas they deserved.
It's another example of MDC staff at work in the community, lending a kind hand and representing the best in people.